ABOUT THE CLUB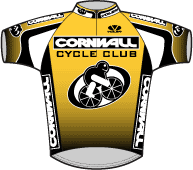 The Cornwall Cycle Club is a not-for-profit membership based organization run by a volunteer Board of Directors. The Cornwall Cycle Club traces its roots back to 1984 when the club was formed.
The Cornwall Cycle Club's objective is to promote and develop cycling in all forms including recreation and competition. To meet these objective the Club offers a variety of events and services to its members and the general cycling public. Programs and services for 2001 include: a full calendar of competitive events, advocacy on behalf of all cyclists (rights to the road) and a newsletter.
Cornwall has a population of 47,000 and is located in eastern Ontario on the St. Lawrence Seaway. Our proximity is ideal as we are just an hour's drive from Montreal, Ottawa, and some of the best riding in New York state.
Happy and safe riding to all,
Cornwall Cycle Club
ABOUT THE CLUB ¥ TT CHAMPIONSHIPS ¥ CLUB RACE SERIES ¥ CONTACT THE CLUB